In many ways, the last couple weeks were really difficult, with bad weather, injuries, and a bunch of trips to town for things we needed. That can really slow down the bus construction! However, we learned a lot, and I'm sure that will help us down the road. I thought I would share some of our lessons, in case someone else who is planning to live in a tent full-time might be helped.
Critters
Camping means you're living where critters normally live. You're invading their territory, so of course they're going to be curious about you. From the screams of cougars at night, to neighbor dogs who decide to sneak into your tent at night (because it's drier there), to a mouse sneaking across your daughter's bed, to ants checking out your food supply, you're bound to make some new "friends."
I'm sure there are lots of other animals to watch out for, and I have no idea how to avoid cougars except to remember to put the garbage away securely at night. After all, if you're offering free lunch, don't be surprised when you have some takers.
As for those ants, we have found that diatomaceous earth works pretty well. We have decided to be proactive from now on and sprinkle it around the perimeter of the entire campsite when we first set up, before a problem starts. We are also learning that air-tight containers are a must for all food. Finally, after meals, everything — and I mean everything — must be cleaned up asap. All crumbs, all bits of water, all packages. Ants can find a bit of crumb quickly!
Rain, Rain, Go Away
The weatherman says that 6-10 inches of rain fell in our area over the last week. We're still under a flood warning because more rain is in the forecast. The Mississippi and St. Croix rivers are in flood stage, but our campsite has had a few puddles of its own.
Kaitlyn had the idea to lay lengths of plywood down on the ground to make paths, so that we didn't constantly walk around in squishy mud. We also laid our bathroom mat down at the entrance of our tent. (It's an awesome bath mat, by the way, and it washes white every time! Best purchase ever…)
Thunderstorms also bring a lot of wind. One night this week, we had straight winds of around 60 mph! That was a little scary, but even though our kitchen canopy went flying across the farmer's field, our sleeping tent came through. We learned that better quality tent stakes really help, and it's also good to have a little slack in the lines, even though it's a bit terrifying when the tent starts to shake and sway in amazing ways.
The wind can also cause the tiny holes in the seams of the tent to get enlarged. If we had been thinking, we would have applied seam sealer to the tent seams before we started camping. So take my advice and apply that seam sealer! If you get a week of rain, you'll have a hard time finding 6-8 hours for the sealer to cure between rainstorms!
Shoes can turn into a sopping wet mess in a hurry, so our whole family now has a pair of crocs or plastic sandals. I would say these are essential!
We are also thankful that we had plenty of extra blankets and towels. We almost got rid of all of them, but we didn't — and I'm so glad!
First Aid While Camping
This was a week of sickness, injuries, and allergies. It started a week ago Monday, when Kaitlyn woke up with a swollen face and a rash from head to toe. It looked like anaphylactic shock, so we took her to the emergency room right away. Several shots and prescriptions later, we were home but had no idea what could have caused such a reaction.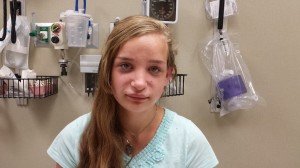 Our friend Doug is a long-time Boy Scout troop leader, and he pointed out that when inside-living folks suddenly spend lots of time outside, they can react to all the new plants they're in contact with.
Another thought is that she had eaten too much hummus and sesame-containing foods at a friend's bridal shower the day before, and maybe she was developing a tree-nut allergy.
However, our naturopath asked a lot of questions and wondered if maybe Kaitlyn could be coming down with a common virus called Fifth Disease, which can sometimes cause as severe of a rash as hers. Sure enough, Kaitlyn said she'd had a mild sore throat and achy muscles a few days before. The clincher was when Kacey came down with a sore throat and achiness on Wednesday and the telltale rash on Thursday.
We were relieved to think that maybe it wasn't a severe allergy, but we discovered that it's extremely important to have a well-stocked medicine cabinet at all times. We love essential oils and found that lavender was especially nice. However, sometimes allergy medication like Benadryl is needed, too!
We also determined to know where the closest emergency room is no matter where we're located! With seven children, we're probably going to visit it a little more often that most families. We found the staff at our local ER to be very kind, and when they found out we lived in a bus and are traveling the nation, our room became a fun hangout for the nurses and doctors, as they asked lots of questions and told stories of other strange adventurous people like us.
Little Guy also cut his thumb on one of Daddy's razors, while the guys were cutting insulation for the bus walls. It bled for quite some time, but Liquid Bandaid and super glue came to the rescue. Whew! Another trip to the ER averted!
Crocs and plastic shoes can cause blisters when you're not used to wearing them in mud and puddles all the time, so a supply of bandaids is important. We went through almost a whole box this week, from owies to blisters to cuts!
Keeping Clean
It's tough to stay clean with all this mud! Little Guy thinks it's awesome, and he is frequently seen splashing in puddles with mud up to his knees.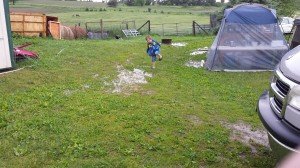 However, for the rest of us, it's important to have some semblance of a bathroom while camping. We purchased a shower tent before starting out, and it's my absolute favorite piece of equipment.
Besides the composting toilet I shared last time, I also love the hot showers from our solar shower bag. It's only 5 gallons, but in a pinch, four of us can get a shower from one bag. On cold, cloudy days, we can fill the bag with about 4 gallons of water from the hose and heat up the last gallon to boiling in our teapot. It's still chilly, but when you need a shower, you don't mind so much. I also recommend taking tall teenagers with you when camping, because shorter people like me can never reach the hook at the top of the shower tent in order to hang up the shower bag. 😉
The little ones struggle with the shower, though. Our fellow-RVing friends, the Via Family, recommended getting a small, blow-up swimming pool to act as a bathtub. That was excellent advice, and now my kids beg for a "bath," both on hot days and on rainy days. ("No, honey, you may not swim when it's thundering and lightning…")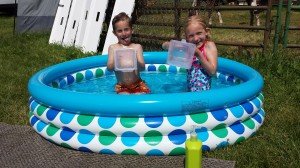 And if a child is potty training, well… remember what I said about extra blankets and towels? And extra underwear… Baby wipes are awesome, too, for all sorts of uses.
Dinner Time
Of course, you'll need to eat sometime. We have a 2-burner propane stove, and we also moved up in the world this week and got a hose adapter for a large propane tank, since those small ones only last a few meals.
We have found that a routine at mealtime makes life a little easier, although this still ranks as the time of day when we're all likely to be most crabby. We're hungry, we're tired, and we can't find the salt shaker. "It's here somewhere…. Did you seriously just drop your entire plate of food in a mud puddle?!"
So when we first get to the "kitchen tent," we start by immediately filling the teapot with water and starting it to boil. This first pot will be used to top off the two plastic tubs we use for washing dishes. The first tub gets filled with soapy water, and the second tub gets clean water. We set those on the end of our 8-foot table, next to the dish drainer, and we wash pots and utensils while we cook so there isn't such a job at the end. Our water is currently coming from a deep well, so the added hot water makes it warm enough to stand and helps clean grease from dirty dishes.
(The second pot goes for making coffee, which gives you some energy for everything else!) 😉
We can't fit very many pots or skillets on a small stove, so it is a challenge cooking for 9 people. In addition, we are using three coolers (plus a borrowed dorm fridge) to keep our food cold until our bus kitchen is finished, so sometimes our choice of food is limited. This isn't the time for gourmet cooking, especially after a long day of working in the rain or hot sun!
Some meals that have made it to our "keep" list include:
Tacos
Sloppy Joes or Made-Rite sandwiches
Cheesesteak sandwiches
Spaghetti
Goulash
Chicken fettuccine alfredo
Deli sandwiches topped with lots of veggies
Salads of all sort (chicken salad, egg salad, macaroni salad with hard-boiled eggs, etc.)
Stir fry
Breakfasts are simple, too, with oatmeal and eggs, or eggs and toast, or hard-boiled eggs and yogurt. It's cold cereal or store-bought pastries for an easy treat on Sabbath morning.
Lunch is another sandwich with chopped veggies, fruit, and sometimes some Wisconsin cheese curds.
Then we all go sit in our lawn chairs to eat. When it's raining, we can crowd into the RV, but it's a little tight. It's also nice to sit in the doorways of the barn and watch the rain fall. Or there's Taco Bell…
Oh, and the kitchen canopy tent is awesome in the rain! It's rather pleasant to stand inside and chop veggies for supper while hearing the rain on the roof. It's a little hot in there on a sunny day, so I think I prefer cooking in the rain.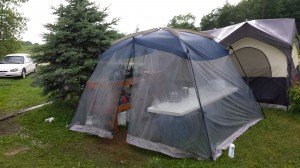 Keep it simple! Even "simple" isn't very easy while camping!
Time to Recuperate
You may have a 300-hundred-mile-long to-do list, but be sure to find some time for fun, memories, and rest as well. This last Sabbath, we headed to a local park to truly rest and recover from a discouraging week of storms. The weather was beautiful, which was a blessing!
Time for Work
Kraig and the boys have been spending their days working on the bus. Over the past two weeks, they've painted the interior ceiling, framed the exterior walls, installed insulation in all the walls,worked on electrical wiring, and laid out our future floor plan with masking tape on the floor. We've also made plans for how we want to paint the exterior, but we're waiting for good weather.
It's possible to keep working during rainy weather, but those times are also a good chance to make trips to the local hardware stores for supplies and to make pricing plans. We're building the bus as the funds come in, so it's important to shop around before making purchases if we're going to do this cheaply.
However, I work online writing curriculum, and a leaky tent is not a good place to set up electronics like computers and printers. I spent quite a few days the past week at a local coffee shop and library. On rainy days, all unnecessary electronics go in the trunk of the car to be safe from the wet.
On good days, my Canon printer sits on my bed, and a tub of paper sits next to it. It's a lightweight printer, and I think it's perfect for our lifestyle. I've installed reminder apps on my phone so that I can make a list of everything that needs to be printed and get it done between thundershowers.
All my office supplies are in a large sterilite container, which is currently stored in the backseat of the car. Kraig is planning a special spot in one of the bus closets for all of this, but in the meantime, this works. My computer and all other supplies are in a backpack.
A dear friend loaned us a fold-up 5-foot table to put inside the tent for special meals, but I stole it for my "desk." I have to watch for drips during the rain, but otherwise, this table is truly making my life more pleasant. Kraig is building custom fold-up tables for inside the bus, so I won't have to worry about this for long.
Wi-fi is essential, and we're using a hotspot from Verizon. Once we got through the initial set-up, it has been working like a champ. We have found that with 2 days per week of using public wi-fi, we can conduct our business and do a little social networking for 12 GB per month. However, we avoid YouTubes, Pandora, and Netflix on 4G.
And when the day is done…
Life feels a lot more normal if you can end the day with popcorn and a movie. We set up our old TV in the barn, and we sit in our lawnchairs in there to watch movies sometimes at night. A scary storm with howling wind and pouring rain doesn't seem as scary when we're laughing together. The east side of the barn is open, so we have a tarp over the TV to keep splatters off it. Tarps are incredibly helpful when camping, so get a few! I also recommend the horses, who like to stand in their stalls next to us and munch on things while we watch TV. 😉
The kids have also been enjoying learning to whittle with their pocket knives and sticks they find. Little Kacey colored some of the whittled sticks with markers to decorate them. However, this is not recommended on a rainy day, unless you enjoy multi-colored hands. 😉 Did I mention that pool we use for a bathtub?
So that's the news from Lake Wobegon Spring Valley, Wisconsin. We're learning to live in style in our tents, but we also look forward to the day when we get to move into our new bus home!
( Note: This post contains affiliate links. These are products that really blessed us, and we hope you're blessed by them as well.)