Wednesday, June 4, 2014
We had several goals for today. First, both Kraig and Anne needed to get some important work done online. We started to work in our tent, but around noon, the hotspot just quit working. We fiddled with it for awhile, but we still couldn't get it to work.
We decided to just eat some lunch and head into town to get it checked at Radio Shack. We asked the boys to start unloading the rest of our stuff from the bus while we were gone.
We went straight to Radio Shack, and thankfully, the hotspot only had a small malfunction with the battery. We then decided to go to Caribou Coffee to finish working. Kraig was working on a half-page ad to put into the Old Schoolhouse Magazine, and we were past the deadline for the submission.
While he finished on the graphic, Anne worked on customer emails and curriculum. Meanwhile, her sunburn started getting worse, and she broke out in hives. She was happy to put her cold iced tea cup on her skin while working!
While we were gone, the kids did their jobs and then played a lot of games on the Flanders giant trampoline. They also rode their bikes all over the farm's long driveway. This is a fun place to live!
We got home at supper time, and the girls had some delicious Philly cheesesteak sandwiches ready. Mmmm… The boys had almost everything off the bus, so after supper, everyone helped Dad organize the stuff in the barn so that could find it easily. We also enjoyed a nice bonfire as the sun went down.
And then we all went to sleep…
Thursday, June 5, 2014
Today had its ups and downs. We couldn't find Mocha (the cat) anywhere! At first we were all joking about it, but inside Mom's head, she was trying not to worry. Last night, she and Dad had heard coyotes howling out in the field, and because we had lost a cat to wild dogs out on the Navajo reservation, Mom was imagining the worst.
A full 24 hours went by, and we still hadn't seen Mocha. Both Mom and Kaitlyn were worried now! We tried to keep praying, but the tears were close to the surface. However, right before sunset, Abba answered our prayers, and Mocha came out of the forest and meowed at us. She led the kids on a crazy chase into the forest, but it seemed like she was just showing them her hiding place. She had been snuggled in under some barbed wire, and if coyotes had been chasing her, they would have been too large to follow here into the place she had found. We were relieved and very thankful! Mocha was taken back to the RV, and she got lots of snuggles and kisses from all the girls that night.
We also had another day of Internet problems. We couldn't seem to connect, so we drove into Spring Valley to use the free wi-fi at Subway. However, after almost two hours of trying, we couldn't connect there either. We tried the public library, but while Kraig could connect, Anne couldn't. The hours were ticking by, and no work was getting done. We went back to the campsite, where we just worked on what we could from there.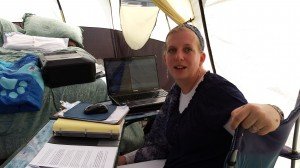 Finally, several of us were still feeling a little sick from sunburns. Our dear naturopath suggested we try putting coconut oil on the burns, but we hadn't been able to find our jar. We spent some time digging through all the kitchen totes, and we finally found it! We also took some allergy medication, since now several of us were having an allergic reaction to the sun and were breaking out in hives.
As for the bus, well, no construction yet, just prep work. But it all needs to be done, so I guess you could say we're right on schedule. Tex the Bus had a good "doctor appointment" (tune up with the mechanic in Spring Valley) this afternoon. "Doc" said it's got a GREAT engine, and he replaced spark plugs and a distributor cap. It drives SO much better now. Kraig took it on a famous hilly road coming up out of Spring Valley, and it did so good. And the speed is better, and most certainly the gas mileage will be better. So Kraig was very happy. We celebrate Shavuot this Sunday, so we'll have 2 days off, but then the serious construction begins. 
Friday, June 6, 2014
We figured out this morning that if we warmed up a teapot full of water on the stove and added it to the shower bag, our shower was absolutely lovely! Ahhhhh…
We spent the morning cleaning up for Sabbath. Bathrooms and floors and stove tops get just as dirty while camping as they do at home! But everyone pitched in, and the campsite was clean in no time.
Kraig and Arik tried to make some more parenting audios for our curriculum website, but for some reason the software caused every computer to freeze up. We ditched that idea around lunchtime and decided to try again next week.
The guys also spent time researching ways to remove some of the seats from the van to give us extra storage. The back seat is bolted in, so for today, they took out the front two benches and left the back two. It feels funny for Dad and Mom to ride up front with gobs of space between them and all seven kids in the very back. However, the four girls in the back seat say that bumpy roads are very fun back there, and they want it to stay like this. 🙂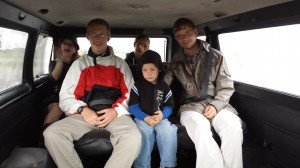 Anne worked online in the tent for much of the day. The sun started to get very hot, but the tent remained cool as long as a fan was on. Kraig and a few guys went into town to get a few parts for the bus and to check out a local Lumber Farm for good bargains. They decided to treat us with a canopy tent to put over the kitchen equipment, to keep all of us girls out of the hot sun so we won't burn as much. They got home before dinner and got it set up just before sunset. Ahhhh…
We had sloppy joes and fruit salad for our Sabbath supper, and the Flanders joined us. We also tried store-bought waffles with strawberries and whipped cream for dessert — but it didn't taste so good. Those waffles were more like cardboard bricks!
We sat around the campfire talking until quite late. The stars were bright, and it was a beautiful night!
Saturday, June 7, 2014
We woke up to rain this morning, but that made it the perfect time to go visit Beth Immanuel Sabbath Fellowship. We don't know how many more times we'll get to see our friends there before we start traveling! The sermon was on 1 Corinthians 13, and it was an encouragement that no matter what else we accomplish in life, if we do things with a self-sacrificing love that is kind and never rude, YHWH can truly do things through us.
The fellowship at oneg was so nice. (Oneg is the word for our Sabbath lunch together, from a Hebrew word meaning "delight," from Isaiah 58:13.) We then spent most of the afternoon either in the oneg hall or over at friends' homes.
We got home in the evening and found that our dinner in the slow cooker was a little, uh, crunchy around the edges. 😉 Once again, Anne realized that her talent in life is to burn barbecue things.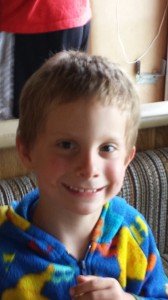 Sunday, June 8, 2014
Today is a Biblical holiday called Shavuot, or the "Feast of Weeks." It's called this because YHWH tells us to count seven weeks from the Feast of Firstfruits (which was the same day as Easter Sunday on the Christian calendar). Shavuot is also known as Pentecost in Greek. So we've been counting 50 days until the day after the seventh Sabbath. We are not to work our jobs today. Oh, bummer! That's too bad! 😉 We'll just have to rest and relax.
We woke up nice and late, and we found that the sun was shining, the breezes were cool, and the weather was just perfect. Cheese and dairy foods are traditional on this day, so we made crepes over the camp stove, and we filled them with a sweet cream cheese filling and topped them with strawberries and whipped cream. Yum!
After breakfast, we sat in the shade of the barn and studied a little about Shavuot. We learned a lot about the history of this feast and what Scripture says about it, which made the account in Acts 2 make a lot more sense!
After our study, we went down to the trampoline. The kids have been jumping on the Flanders' trampoline all week, but this was the first time Mom went with them. They all wanted to show off their tricks and flips!
We had leftover sloppy joes for lunch and then we all just relaxed. Kaitlyn had a wonderful time brushing Jem (the horse), which was like a dream come true for her! Kiersten decided to read (and write a little on a story she's been working on), while the two younger girls jumped on the trampoline some more. Alistair took a nap, while Kraig made four or five floor plans for the bus. Arik and Andrew decided to hook up the Xbox for the day, out in the barn. Anne laid down in the bus to read a book, although she probably slept more than she read. It was just a nice day all around!
For supper, Anne decided to cook up a hash of potatoes, turkey bacon, and turkey sausage. However, the stove ran out of propane about halfway through, so we all switched to cold-cut sandwiches.
Arik also went out for awhile to practice his driving with Mom. That was scary interesting!
We ended the day with another bonfire.
Monday, June 9, 2014
It hasn't quite been a full week, but we're in town this morning doing laundry and getting groceries, so we're going to go ahead and get this posted while we have free wi-fi. We're planning to head home this afternoon and do some bus construction, so you'll have those pictures to look forward to!