Wednesday, May 28, 2014
Today is "Moving Day," when we load our stuff onto the bus and drive it out to the farm where we're going to be staying while we renovate the bus. The farm is about 11 miles from our house, so it's not far to go.
The Flanders family kindly allowed us to set up our tents and park our bus next to their horse barn where there is running water and electricity.
Mr. and Mrs. Hagan were amazing friends once again and came out to help us today. They kept calling to check on us, and we kept saying, "No, we're fine. We don't need help." But when they showed up in the afternoon with work gloves, we could have hugged them! He helped pack up the rest of our things on the bus while she grabbed a broom and started making the house shine.
It was about 6:30 p.m. before we finally drove to the farm. Three of the kids sat in the back of the bus for the ride over. (Kaitlyn snuggled with Mocha the cat.) They said the ride in the back was a little terrifying! 🙂 Several kids came over in Hagan's car, and Mom and Alistair went in our car to get ice and to drop off a few more things at the recycling place.
We arrived and started setting up the tents. We finished around sunset (close to 9 p.m.), and Mrs. Flanders served us a delicious meal up at their house.
We saw the sliver of a new moon in the sky at sunset. We didn't have a shofar to blow to mark the beginning of a new month, so Kandice made lots of loud tooting noises.
We all climbed into bed in our tents. Dad and Mom slept in style in the big tent, with a real bed and everything. The four girls and Alistair had another tent, and the two oldest boys had the smallest tent.
It was hard to fall asleep because we weren't used to the night sounds. Who knew that bull frogs and crickets could be that loud? But it was also very nice sleeping under the stars.
Thursday, May 29, 2014
This is technically Kiersten's 12th birthday, but we celebrated early. It's also Day 40 of counting the omer, which is the day that Yeshua ascended into heaven. But it was just going to be cleaning day for us, so we didn't really remember too much of this. 😉
We woke up and had cold cereal, which is a rare treat for us! The sun was beating down, so by 9 a.m., several of us were already starting to get sunburns. However, we left the campsite right after breakfast so that we could return to our old house and give it a good cleaning.
It felt strange to be in our empty big house! We started cleaning in the upstairs so that the bedrooms would be ready for the carpet cleaners who were expected to arrive at 1 p.m. Every one of the kids worked as hard as Dad and Mom. It was a huge help to have all of their hands and their good attitudes!
We stopped for lunch around 2 p.m. and then started in again. We finished everything up by 5 p.m., and Dad took most of the kids back over to the farm. Mom and the older boys stayed at the house. The carpet cleaners still hadn't arrived, and the landlord was due at 7 p.m. for a final inspection.
The carpet cleaner finally arrived right before the landlord. We had a great inspection and finally made it back to the campsite around 8 p.m.
We were super tired, so we drove into Menomonie and got some pizza. We finished eating by 10 p.m., and went straight "home" and went to bed.
Friday, May 30, 2014
We set up the shower tent this morning so that we could all get some much needed showers! The shower tent has a black solar bag that helps warm up the water in the sunshine.
Kraig and the boys had also made a "lovable loo" composting toilet for us. It holds a 5-gallon bucket with a little bit of peat moss. We have another bucket with peat moss and a scoop sitting right next to the toilet. After someone uses it, we "flush" by covering everything with a little more peat moss.
The Torah says to cover our waste with dirt, so we've been joking that we finally have a Torah-observant toilet! We call it "Tot" for short. 🙂
After breakfast, Dad, Mom, and Alistair drove into Menomonie, where Kraig had a chiropractor's appointment. We also tried to pick up Anne's cell phone, which we had ordered over a week and a half earlier from Radio Shack but still hadn't arrived. Nope, still hadn't come! The Manager said that it hadn't been ordered correctly (uh, oh, someone was in trouble), and he apologized and said it would arrive by next Monday or Tuesday.
Then we drove to the Cities to pick up our van. We arrived shortly after lunch. Alistair was excited to drive in the big van with Dad. We're calling it "Scout." It's a Dodge 15-passenger van that used to be owned by the Boys and Girls Clubs of the Twin Cities. A mechanic had fixed the rear axle for us, as well as the brake line, so almost everything was in good working order. We need to check the air conditioner, but for now, we're rolling down the windows. We also need to paint it, but we'll do that to match the bus and trailer.
Late in the afternoon, we stopped at the Hudson library where Alistair could play and Anne could check up on her customers and upload some curriculum for the following week's lessons.
We arrived home about an hour before sunset. The big kids had all had baths and showers throughout the day, waiting an hour or two between each one to allow the water to heat. They had also organized quite a bit of our stuff so we could find things better. We quickly made tacos for our erev shabbat meal, and Andrew had started a bonfire. We were too tired to sing or have long prayers, but we thanked Abba Father for all the ways He had provided for us this week — and we went to bed!
Sabbath, May 31, 2014
We rested! LOL! And oh, did we need it!
In the afternoon, we went to the local lake and had a picnic lunch and went swimming. It was a hot day, so the water wasn't too cold, although Mom was feeling too sunburned to get in.
After sunset, we snuck over to the local truck stop for more ice for the coolers and for some delicious ice cream. It had been a hot week, so big thunderheads were accumulating in the west. We went to bed just as the first big raindrops started to fall.
Sunday, June 1, 2014
Around midnight, the rain was coming down so hard that the girls were starting to get wet in their tent. We brought them into Dad and Mom's tent, where we decided to have one big slumber party. However, the zipper on the front of our tent had started to rip, and the top tore, and the rain started to pour in. Throughout the next long hours, we were all awake and felt like we were on a ship, throwing water out, mopping up the floor, and continuously fixing the "front door" so more water wouldn't come in. Dad also took time to move all our electronics from the tent to the van, just to keep everything safe. However, he was pretty wet!
Around 2:30 a.m., the boys' tent also started to flood. In the downpour, the boys moved their bedding to the bus and made a place on the floor for their bedding (amidst all our boxes and clothing).
We tried to sleep, but it was a scary night of lightning, wind, and rain. The weather report said that 4-6 inches fell that night. The puddle lake that we found outside the tent the next morning verified this! All our bedding, pillows, clothing, food, and more was soaked. Kraig hadn't slept at all, and everyone else had slept only a short while. We were exhausted!
We went to a local buffet for a Sunday morning brunch, and then we used the truck stop bathrooms to clean ourselves up a bit. We found a dry place to stay for a few hours. Kandice was getting a sore throat, and Kraig's eyes were getting really heavy, so we headed "home."
Mr. Flanders has a Class C RV that he drove down to our campsite late this evening. The kids' tents were still basically under water, so we made places for the girls to sleep in the RV. The boys decided to permanently sleep on the floor of the bus, except for Alistair who bunked out on the floor of Dad and Mom's tent.
Monday, June 2, 2014
The ground was still flooded and muddy, so we all woke up and decided to just go barefoot today. The mud, water, and grass really felt quite good, though. The farm has a horse, several little pigs, a couple dogs and cats, and various wild animals that we can hear at night. 😉 We went through all the food that had gotten wet in the rain storm and donated a little bit to the pigs, who will forever be our friends now. We also found a colony of ants that thought they liked our tent better than the puddles, so we evicted them.
We needed to get some work done for our customers, and we thought maybe we could use free wifi in town while also getting some laundry done. So we all piled into Scout the Van and headed to town.
The local laundromat was quite nice! Even better, a dear lady who is a full-time RVer herself was doing laundry at the same time. What an encouragement Annie was! She gave us lots of ideas and told many stories while we worked on laundry. She kept saying that we might be tired and dirty now but that soon we would adjust and might never want to return to house living again! We're sure YHWH sent her our way because we badly needed to hear that.
When the laundry was done, we returned to the campsite and spent a quiet few hours resting, putzing around doing odd jobs, working online, and just enjoying the beautiful weather. The sun was hot and the ground water was quickly evaporating as the breezes picked up.
We had "refrigerator smorgasbord" in the crockpot for supper, mostly consisting of produce that needed to be used up plus some chicken and turkey kielbasa. I won't post the recipe because it was just average, but it had been cooking all day and smelled so good by supper time.
After supper, we decided to all take Andrew to Boy Scouts. He's only been in our local troop this spring, but he has made some good friends and is hoping to enjoy a few more weeks with them before we start traveling. The rest of us went to the local library so Dad and Mom could work online. However, Mom forgot her power cord and couldn't work at all! It wasn't so bad. She worked on making a menu and shopping list for the upcoming week and played in the children's section with the three youngest. They had a lot of fun!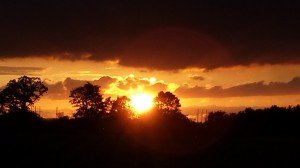 The sunset on the way home was amazing! However the wind was really starting to pick up. By the time we got home, we found that the kids' tents, which thankfully were empty, were blowing over. In fact, Dad and Mom's tent was coming unstaked, and if we hadn't had our kitchen supplies and bed in there, it would probably have blown away! The bathroom tent was also about to blow over — and oh, what a mess that would be!
Mr. Flanders drove down with his truck and brought cinder blocks and large rocks that we used to stake the large tent. We packed up the boys' tent. The girls' tent was down, but it seemed to be stable. We moved the bathroom tent over near the horse corral so that it could lean against the metal gates. It was quite dark by now, so we all went to bed.
Kraig was starting to feel pretty sick with a sore throat, cough and congestion. We tried to sleep, but huge gusts of wind were completely rocking the tent. The rocks were holding the stakes like they should, and Kraig had added a tarp over the "front door." We were safe — but it didn't feel like it! We both hid under the covers to block out the sound of howling wind, and we slept here and there.
Tuesday, June 3, 2014
Today the girls did all the cooking while the boys headed into the Flanders' barn. Mr. Flanders kindly gave us permission to take all of our stuff from the bus and store it in his horse barn. Kraig is also setting up a workshop here so that he can saw and drill and construct the walls and furnishings for our bus.
Meanwhile, Anne worked online while the little ones turned the girls' tent into a play place, complete with all their toys, reading books, coloring, pillows and stuffed animals.
Later, the boys got cleaned up, and they all headed to town for groceries. Anne went to Caribou Coffee to work while the rest did their shopping — but guess what came in! Yes, Anne's new phone! That's a happy way to end the day!
And so the first week of the Elliott Expedition draws to a close.
My son, preserve sound judgment and discernment, do not let them out of your sight; they will be life for you, an ornament to grace your neck.

Then you will go on your way in safety, and your foot will not stumble; when you lie down, you will not be afraid; when you lie down, your sleep will be sweet.

Have no fear of sudden disaster or of the ruin that overtakes the wicked, for YHWH will be your confidence and will keep your foot from being snared. (Proverbs 3:21-26, NIV)